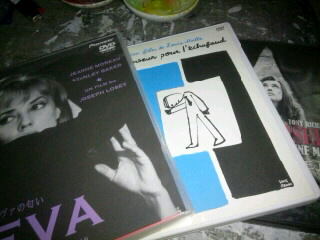 a heavy rain.
as heavy as lead by the weather.
have painted an illustration as i was listening to WFMU.
ジャンヌ・モローの訃報。
learned that Jeanne Moreau passed away.
R.I.P.
このあたりの時代の女優さんは煙草が似合う。
煙草が似合ってこそ女優。
finished painting an illustration.
watched TV, 三宅裕司 visits viewer's hometown.
There was somewhat great earthquake when i was reading a book as i was playing the radio.
TBSラジオを流しながら本を読んでいたが、緊急地震速報鳴らず、揺れが収まってからも、情報を伝えるまでが遅い。
finished reading a book.
「音楽」
小澤征爾・武満徹 著
(新潮文庫)
読了。