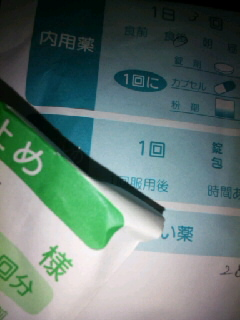 diarrhea.
胃までオカシイ。
だいたい、二足歩行自体が不自然で無理があるのではないか。
ニンゲンは不自然。
typhoon.
歯医者の予定であったが、今日は行けんかもと受付のオバチャンに連絡したら、受付のオバチャンは「無理しないで」と言った。
受付のオバチャンは無事に帰れるんだろうか。
I'll go to a dental clinic again today but it will be impossible because of a typhoon.
I phoned it to a receptionist of clinic.
She said to me, "Please don't strain yourself."
Can she go home, I wonder?
A sample of magazine reached.
I feel tierd by the weather and my tooth.
cropped.
scanned my works.
グンジョーガクレヨンと.esのライブ観たかった。
写真がもの凄くカッコイイ。