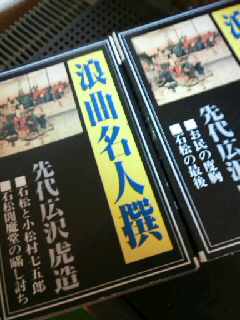 PAVLOV'S DOG
「PAMPERED MENIAL」
SWANS
「FILTH」
made an envelope of a leaflet i cut.
drew up a paper.
put an envelope into the mailbox.
dropped into the secondhand store on my way home.
When I shopped around for cassette tapes of 浪曲, a storekeeper said to me, "I sell two cassettes at one hundred yen to you because it is no use being things left in my store."
Thanks, おっちゃん.
have put my room in order little by little.
tore corrugated cardboards and papers into pieces.
The room isn't tidy at all.
先代広沢虎造
「石松と小松村七五郎/石松閻魔堂の瞞し討ち」
「お民の度胸/石松の最後」
THE KINKS
「ONE FOR THE ROAD」
I'm listening to records while putting my room in order.
I didn't take those records lately.
GERRY RAFFERTY
「CAN I HAVE MY MONEY BACK?」
勝昭さん不在の中キメる稀勢の里。
いずれにしてもオメデトウ。
THE POP GROUP
「Y」
REIGN GHOST
「REIGN GHOST」
watched the discovery of misteries in the world on TV.