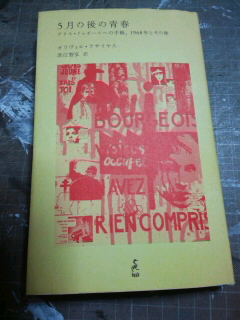 printed to replace some papers in the file.
The cherry brossoms have fallen like a snowstorm.
took a file to the post office to mail.
went shopping at D in I-W for a file.
poor life.
JIMI HENDRIX "BAND OF GYPSYS"
finished reading a book, "Une adolescence dans l'apres-Mai: leure a Alice Debord" by Olivier Assayas.
「5月の後の青春 アリス・ドゥボールへの手紙、1968年とその後」
オリヴィエ・アサイヤス 著
彦江智弘 訳
(boid)
読了。
数年前にOn Sundaysで勧められて、長らく放置していた本。
Although a bookseller of the On Sundays recommended this book to me several years ago, i didn't read it until now.
It's difficult for me to understand content in this book because i don't have a knowledge of May 1968 events in France, but i kept reading it.
took old books to the secondhand bookstore.
bought a book by the point card.
went to the post office to get a letter pack.
watched 風土記 on TV.
としどん
事前の打ち合わせから、最後は餅をくれるところなど、ちょっとサンタクロースみたいなところある。
printed.
filed.