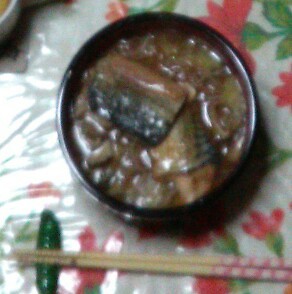 宇治番茶 for お母ちゃん.
ソフト and マーマレードjam on toasts.
physical labor.
drugstore.
A sample magazine has reached me.
have shown it for Mother.
宇治番茶 for Mother.
read a magazine as took a toilet.
washed a few wear with my hands in the bathroom.
hung a few wear out to dry.
took out the washing i hung in the room.
talked to myself.
watched TV, 市民ケーンミンShow.
宇治番茶 for Mother.
cooked.
folded up the part of the washing.
Dead Kennedys "Fresh Fruit For Rotting Vegetables"
listened to the radio, ANN by 幹事芸人.
〈みぞれ煮煮込みそば〉
・蕎麦…長ねぎ、しいたけ、キャベツ、しょうがおろし、乾わかめ
水割りめんつゆ、しょうゆ、みりん、酒
冷凍そば
ビニ鯖みぞれ煮乗せ